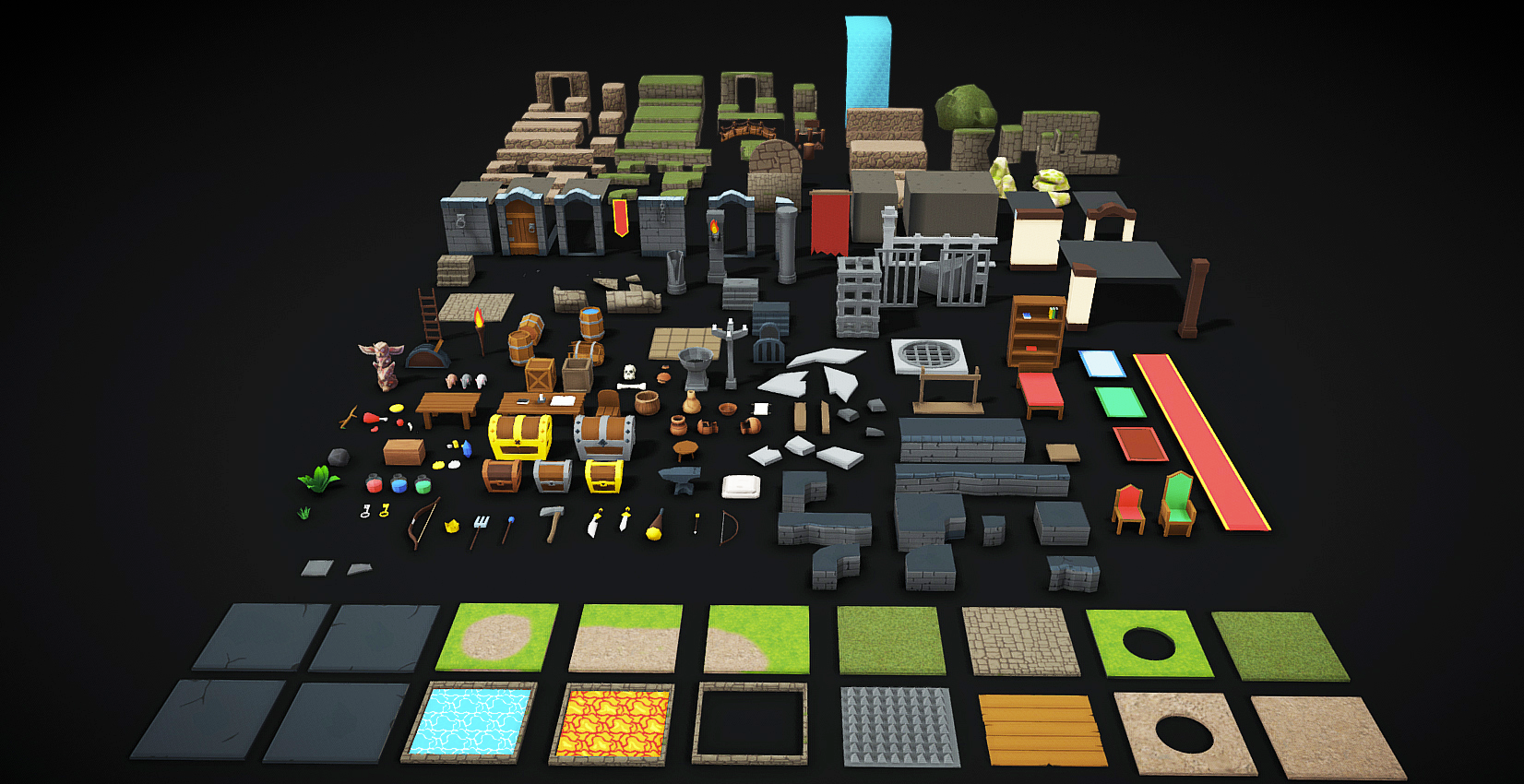 Modular Cartoon Low-Poly Dungeon Props and Tileset Pack
A downloadable asset pack
Get this asset pack and 4 more for $19.99 USD
View bundle
A Modular Cartoon Low-Poly Dungeon Props and Tileset Pack. Great for Prototyping/Making Low-poly Styled Art and Games.

Win time by focusing on what is more important instead of spending your time creating all these assets from scratch.

You can freely modify it and use it in all of your games or other types of project, even commercially (Not limited to only one project).
This pack works fine with both Unity and Unreal.
I recommend you to use MAST - Modular Asset Staging Tool to easily connect each tile.
If you want me to include some specific asset or you have any issue, feel free to contact me through discord at https://discord.gg/yyeU9cszwT
**For Unreal Engine users**: Uncheck the option Transform Vertex to Absolute when Importing, so the pivot point will be fixed

Features
200+ Assets ( Props and Modular Environment 3D Low-poly Tiles)
Most of these assets have a high quality hand-painted textures
Optimized for performance, meaning that your game will run smoothly even on lower-end hardware

You can use this pack in all of your projects ( CC0 Licensed )
Cartoon Water Shader Included ( Unity3D Only )
You can create many differents environments ( Desert, Dungeon, Forest,Rooms and Ruins )
All models have they rotation set to 0 and scale set to 1
All models have they pivot point set to bottom center position
All models have a prefab with a collider ( Unity Package )
Objects size follows the convention 1 Unit : 1 Meter scale
An affordable pricing, you'll have the flexibility to purchase only the assets you need, without breaking the bank
It seamlessly integrate into your game if it uses other low poly assets
Blender file included, so you can export easily to any other game engine, including Unreal
🚀Start building your dream game today with our high-quality low poly game assets

Props
1. Boss Golden Chest
2. Boss Silver Chest
3. Boss Wooden Box
4. Dungeon Furnitures
5. Vases and Broken Vases
6. Dungeon Ruins Env. Kit
7. High-quality Cartoon Totem
8. Barrel Kit
9. Stair
10. High-quality Stone Pack
11. Cave Env. Kit
12. Forest Kit.
13. Torch
14. Hole
15. Skull Head
16. Dungeon Puzzle Kit ( Walls, Triggers, Traps )
17. Wooden Sign
18. Simple Furniture Kit
19. Simple Chest Pack

And much more!


If you are creating an adventure or rpg game consider prototyping it using the packs below.

Thank you so much for your visit! I'm a solo indie game developer and I am doing my best to improve the assets based on the community feedback. By purchasing the pack you are encoraging me to keep making game assets even better.

Best wishes!
Follow me to be notified when I'll post new content!
⭐ Don't forget to rate this asset if it is useful for you! :)
To know my games on other platforms go to https://linktr.ee/overactiongamestudio

OTHER PACKS FROM OVERACTION
| | |
| --- | --- |
| Status | Released |
| Category | Assets |
| Rating | |
| Author | Overaction Game Studio |
| Genre | Role Playing |
| Made with | Blender, Unity, CryEngine, Unreal Engine |
| Tags | 3D, Asset Pack, Cartoon, Fantasy, Low-poly, Medieval, Tileset, Top-Down, Unity |
| Asset license | Creative Commons Zero v1.0 Universal |
| Average session | Days or more |
Purchase
Get this asset pack and 4 more for $19.99 USD
View bundle
In order to download this asset pack you must purchase it at or above the minimum price of $9.56 USD. You will get access to the following files:
ModularCartoonAdventurePropsAndTilesetPack-v1.4.1 + UnityPackage.zip
55 MB
DungeonProps-1.4.5.zip
51 MB
CartoonDungeonPropsAndTilesetPack1.4.4-FBX.zip
25 MB
CartoonDungeonPropsAndTilesetPack1.4.5 - Unreal.fbx
2 MB
CartoonDungeonPropsAndTilesetPack1.4.5.blend
61 MB
CartoonDungeonPropsAndTilesetPack1.4.5_Unreal.blend
62 MB
Comments
Log in with itch.io to leave a comment.
Can I ask the differences between the different downloads made available?
Sure. There are 5 packs available as follow:
Unity specific pack
Unreal Specific Pack as FBX
The latest FBX version 1.4.5
A Godot Specific version 1.4.4 FBX ( A user requested from our Discord channel )
A Blender source file
Also, I can't use these assets, idk if it's normals or textures but they don't show up in my game except from a certain angle and then the texture is messed up.

Hi there
What game engine (and its version) are you using?
Also, there are three options of my pack available for download. I recommend you to try the DungeonProps-1.4.5.zip, because this is the last version I uploaded

Hi, so I bought this asset pack but I need more. Lots more. In fact, please message me somehow so we can talk about things. Can you make models like this and combine that with Sprytile?

Asking because I made a game engine and it's unreal.
Of course, just tell me what assets do you think will be good to put in my pack and I will consider creating it!

If you want to talk more about this you can contact me through discord at https://discord.gg/yyeU9cszwT
Hey, I'm trying to use this pack in UE4 v4.25, and the textures are all white. Do you have any clue how to resolve this issue?
Hi PCVeteran,
I've just sent a new FBX file to download area, I exported to FBX with another configuration
Let me know if it works
Sorry for the late response, the textures work fine in UE4, thanks for the fix, but the offset of the models gets in the way of the mapping, if you can figure out why this is, it'd help a ton, since I have to keep dragging models that have their pivots offset a mile away.
Hello PCVeteran
The pivot point of all objects is set to be bottom centered. I'll make some tests using UE4 to identify the issue
Hi again
I tested the last FBX i submitted to download area by going in File -> Import into level ( Choose the folder ). I see that the pivot point of all models continues to be bottom centered as expected. Could you tell me what file version are you using and the steps that you ara taking to reproduce the issue?
Hi, your dungeon pack looks great but I cannot use it in Blender (for UE4) because all the pieces seem to be "locked". How can I do ?

Hi LeChatDissident,
This issue must be happening because all objects are as child of an another object, I just uploaded another Blender file with no parenting object
Hope it fix the issue
Look forward for your feedback
Hi, first of all thank you for uploading the Blender file. Now I am able to select and move all the meshes as I want !

There are still an issue with the textures. They seem to not have endured the conversion to Blender as most of them don't work (meshes and their textures are white).
I don't know how to slove the problem, but if it takes too much of your time I would understand.

Hi again,
I've just uploaded another Blender file (v1.4.2) with all textures packed inside it

Hope it works

Hi,
Thanks for the Blender file, I can see and use the textures in Blender !

Unfortunatly, they still don't work when imported to UE4 (white materials).
Any idea ?
Hello,
I've just sent a new FBX file to download area, I exported to FBX with another configuration
Let me know if it works
Hi, just want to re-confirm. Can we use a purchased asset to more than one game?
Or it just licensed as a single product (one license for one game only).
Hi Asemdjo.Works ,
Yes, you can use it in as many projects as you want.